Regular price
Sale price
$33.00
Unit price
per
Sale
Sold out
As Seen In CAUSEBOX
View full details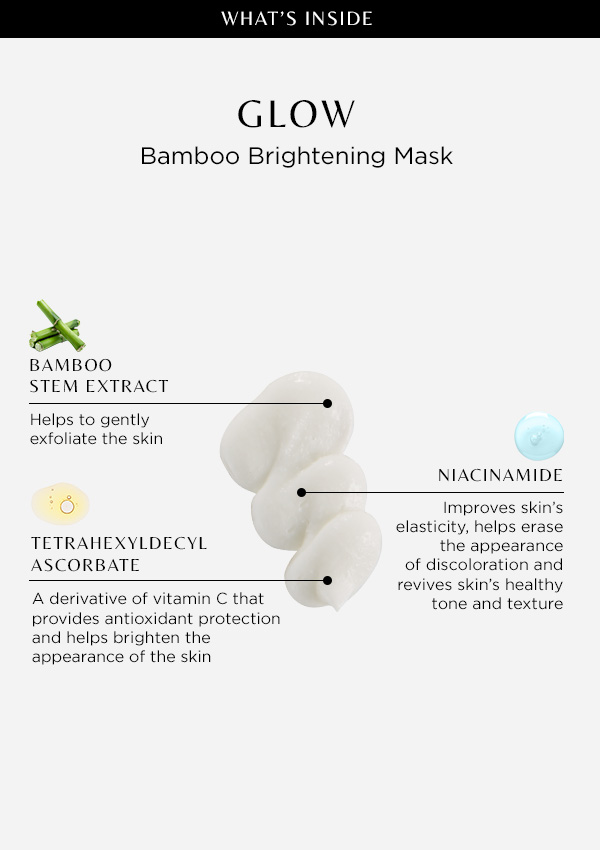 WHAT IT IS


Don't let anything dull your glow. This Bamboo Brightening Mask in a perfectly portable size helps improve the appearance of discoloration and uneven skin tone by exfoliating away dead surface cells with bamboo stem extracts. The gentle exfoliation allows for optimal absorption of brightening ingredients, which help improve skin texture and tone to reveal a smoother, brighter and more luminous-looking complexion.



WHAT IT DOES


• Gently exfoliates and revives the look of dull skin




• Helps improve the appearance of uneven skin tone and discoloration




• Reveals a brighter-looking complexion with a radiant glow



TRANSFORMATIVE INGREDIENTS
Bamboo Stem Extract

| Helps exfoliate the skin.


Niacinamide

| Improves skin's elasticity, dramatically enhances barrier function, helps erase the appearance of discoloration and revives skin's healthy tone and texture.


Tetrahexyldecyl Ascorbate

| A derivative of Vitamin C that helps penetrate oily skin to provide antioxidant protection and stimulate collagen production.




Night

At night, apply a generous amount to clean, damp skin using a massaging, circular motion. Leave on skin for 10-15 minutes and then gently rinse skin with warm water and pat dry. Follow with two pumps of Simply Brilliant 24/7 Brightening Serum and apply to cleansed and toned skin.

Day

We do not recommend using this face mask during the day, as it may cause sensitivity to sun exposure.

All Ingredients

AQUA, DICAPRYLYL ETHER, CAPRYLIC/CAPRIC TRIGLYCERIDE, BAMBUSA ARUNDINACEA (BAMBOO) STEM EXTRACT, GLYCERIN, GLYCERYL STEARATE, CETEARYL OLIVATE, CETEARYL ALCOHOL, SORBITAN OLIVATE, CETYL PALMITATE, NIACINAMIDE, POLYSORBATE 20, SORBITAN PALMITATE, 3-O-ETHYL ASCORBIC ACID, TETRAHEXYLDECYL ASCORBATE, CITRUS AURANTIUM DULCIS (ORANGE) CALLUS CULTURE EXTRACT, FICIN, LACTIC ACID (L), CITRUS LIMON (LEMON) PEEL OIL, LITSEA CUBEBA FRUIT OIL, CITRUS PARADISI (WHITE GRAPEFRUIT) PEEL OIL, CITRUS AURANTIUM DULCIS (ORANGE) PEEL OIL, SORBITAN OLEATE, HAMAMELIS VIRGINIANA (WITCH HAZEL) WATER, XANTHAN GUM, HYDROXYETHYLCELLULOSE, CITRIC ACID, POLYSORBATE 60, ALCOHOL, ETHYLHEXYLGLYCERIN, SODIUM HYDROXIDE, TOCOPHEROL, PHENOXYETHANOL, O-CYMEN-5-OL, GLUCONOLACTONE, SODIUM BENZOATE, CALCIUM GLUCONATE, LIMONENE, CITRAL
WHAT IT IS


Don't let anything dull your glow. This Bamboo Brightening Mask in a perfectly portable size helps improve the appearance of discoloration and uneven skin tone by exfoliating away dead surface cells with bamboo stem extracts. The gentle exfoliation allows for optimal absorption of brightening ingredients, which help improve skin texture and tone to reveal a smoother, brighter and more luminous-looking complexion.



WHAT IT DOES


• Gently exfoliates and revives the look of dull skin




• Helps improve the appearance of uneven skin tone and discoloration




• Reveals a brighter-looking complexion with a radiant glow



TRANSFORMATIVE INGREDIENTS
Bamboo Stem Extract

| Helps exfoliate the skin.


Niacinamide

| Improves skin's elasticity, dramatically enhances barrier function, helps erase the appearance of discoloration and revives skin's healthy tone and texture.


Tetrahexyldecyl Ascorbate

| A derivative of Vitamin C that helps penetrate oily skin to provide antioxidant protection and stimulate collagen production.



Night
At night, apply a generous amount to clean, damp skin using a massaging, circular motion. Leave on skin for 10-15 minutes and then gently rinse skin with warm water and pat dry. Follow with two pumps of Simply Brilliant 24/7 Brightening Serum and apply to cleansed and toned skin.
Day
We do not recommend using this face mask during the day, as it may cause sensitivity to sun exposure.
All Ingredients
AQUA, DICAPRYLYL ETHER, CAPRYLIC/CAPRIC TRIGLYCERIDE, BAMBUSA ARUNDINACEA (BAMBOO) STEM EXTRACT, GLYCERIN, GLYCERYL STEARATE, CETEARYL OLIVATE, CETEARYL ALCOHOL, SORBITAN OLIVATE, CETYL PALMITATE, NIACINAMIDE, POLYSORBATE 20, SORBITAN PALMITATE, 3-O-ETHYL ASCORBIC ACID, TETRAHEXYLDECYL ASCORBATE, CITRUS AURANTIUM DULCIS (ORANGE) CALLUS CULTURE EXTRACT, FICIN, LACTIC ACID (L), CITRUS LIMON (LEMON) PEEL OIL, LITSEA CUBEBA FRUIT OIL, CITRUS PARADISI (WHITE GRAPEFRUIT) PEEL OIL, CITRUS AURANTIUM DULCIS (ORANGE) PEEL OIL, SORBITAN OLEATE, HAMAMELIS VIRGINIANA (WITCH HAZEL) WATER, XANTHAN GUM, HYDROXYETHYLCELLULOSE, CITRIC ACID, POLYSORBATE 60, ALCOHOL, ETHYLHEXYLGLYCERIN, SODIUM HYDROXIDE, TOCOPHEROL, PHENOXYETHANOL, O-CYMEN-5-OL, GLUCONOLACTONE, SODIUM BENZOATE, CALCIUM GLUCONATE, LIMONENE, CITRAL