MSRP
Regular price
Sale price
$63.00
Unit price
per
Sale
Sold out
Moisturizer with Broad Spectrum SPF 50 Sunscreen
View full details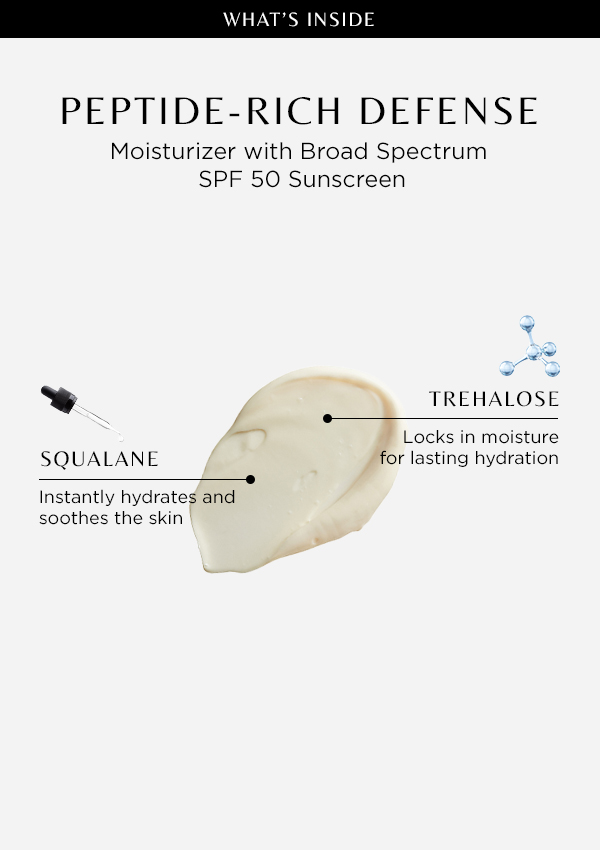 WHAT IT IS:


Peptide-Rich Defense is a lightweight, hydrating SPF 50 Moisturizer with age-defying peptides that help smooth the look of fine lines and wrinkles to promote a more radiant, youthful-looking complexion.



WHAT IT DOES:


• Helps protect the skin with Broad Spectrum SPF 50 sunscreen




• Helps smooth the look of fine lines and wrinkles




• Deeply hydrates, soothes and nourishes the complexion




• Helps protect skin from environmental stressors





Take skin defense to a whole new level with Peptide-Rich Defense—a sun-shielding, multi-tasking, age-defying moisturizer that helps to replenish moisture loss, reverse visible signs of aging and guard the skin against the sun's harmful rays. Formulated with powerhouse peptides, trehalose, amino acids, natural botanical extracts and vitamin E, this bestselling moisturizer and sunscreen brings science and nature together to help smooth the look of fine lines and wrinkles, deeply nourish the skin and help protect skin against free-radical damage. Uber-hydrating but never greasy, the lightweight formula absorbs quickly into the skin for a velvety, white cast-free finish. The result is a restored, radiant and more youthful-looking complexion.



TRANSFORMATIVE INGREDIENTS
Squalane

| Instantly hydrates and soothes the skin


Trehalose

| Locks in moisture for lasting hydration




A combination of science and botanical ingredients help firm skin and smooth lines and wrinkles.

Conditioning moisturizers help attract and retain vital moisture in the skin.

Helps to even skin tone by reducing the look of acne scars, dark spots and hyper-pigmentation.

Free radical-fighting antioxidants defend skin from environmental stress that can cause inflammation and damage to collagen and elastin.

SPF 50 blocks 98% of UVB rays that cause aging and discoloration.

For those with severe gluten sensitivities or Dermatitis Herpetiformis, rest assured this product is gluten free.

Night

We do not recommend applying moisturizers with SPF ingredients at night.

Day

Cleanse and tone skin. Prep skin with a daytime serum like Cell ID Nutritive Defense Serum. Liberally apply a quarter-sized amount of Peptide-Rich Defense to face, neck, décolletage and hands 15 minutes prior to exposure to the sun. Reapply at least every 2 hours. Makes the perfect prep step before makeup application.

All Ingredients

Active Ingredients: Avobenzone 3.0% w/w, Octinoxate 7.5% w/w, Octisalate 5.0% w/w, Oxybenzone 5.0% w/w

AQUA, PROPANEDIOL, DICAPRYLYL CARBONATE, CARTHAMUS TINCTORIUS (SAFFLOWER) OLEOSOMES, CETYL ETHYLHEXANOATE, GLYCERIN, CETEARYL OLIVATE, SORBITAN OLIVATE, SILICA, TREHALOSE, TRIMETHOXYBENZYLIDENE PENTANEDIONE, SQUALANE, PALMITOYL TETRAPEPTIDE-7, PALMITOYL OLIGOPEPTIDE, TOCOPHERYL ACETATE (VITAMIN E), MORINGA PTERYGOSPERMA SEED EXTRACT, ALLANTOIN, CITRUS GRANDIS (GRAPEFRUIT) PEEL OIL, GLUCOSAMINE HCL, SACCHAROMYCES CEREVISIAE EXTRACT, TOCOPHEROL, POTASSIUM SORBATE, POLYSORBATE 60, DISODIUM EDTA, SODIUM HYDROXIDE, CETEARYL ALCOHOL, POLYSORBATE 20, UREA, SESAMUM INDICUM (SESAME) SEED EXTRACT, BUTYLENE GLYCOL, ETHYLHEXYLGLYCERIN, DIMETHYL ISOSORBIDE, LIMONENE, TITANIUM DIOXIDE (CI 77891), CAPRYLIC/CAPRIC TRIGLYCERIDE, CETEARYL GLUCOSIDE, HYDROXYETHYL ACRYLATE/SODIUM ACRYLOYLDIMETHYL TAURATE COPOLYMER, CARBOMER, BOERHAVIA DIFFUSA ROOT EXTRACT, ALGAE EXTRACT
WHAT IT IS:


Peptide-Rich Defense is a lightweight, hydrating SPF 50 Moisturizer with age-defying peptides that help smooth the look of fine lines and wrinkles to promote a more radiant, youthful-looking complexion.



WHAT IT DOES:


• Helps protect the skin with Broad Spectrum SPF 50 sunscreen




• Helps smooth the look of fine lines and wrinkles




• Deeply hydrates, soothes and nourishes the complexion




• Helps protect skin from environmental stressors





Take skin defense to a whole new level with Peptide-Rich Defense—a sun-shielding, multi-tasking, age-defying moisturizer that helps to replenish moisture loss, reverse visible signs of aging and guard the skin against the sun's harmful rays. Formulated with powerhouse peptides, trehalose, amino acids, natural botanical extracts and vitamin E, this bestselling moisturizer and sunscreen brings science and nature together to help smooth the look of fine lines and wrinkles, deeply nourish the skin and help protect skin against free-radical damage. Uber-hydrating but never greasy, the lightweight formula absorbs quickly into the skin for a velvety, white cast-free finish. The result is a restored, radiant and more youthful-looking complexion.



TRANSFORMATIVE INGREDIENTS
Squalane

| Instantly hydrates and soothes the skin


Trehalose

| Locks in moisture for lasting hydration



A combination of science and botanical ingredients help firm skin and smooth lines and wrinkles.
Conditioning moisturizers help attract and retain vital moisture in the skin.
Helps to even skin tone by reducing the look of acne scars, dark spots and hyper-pigmentation.
Free radical-fighting antioxidants defend skin from environmental stress that can cause inflammation and damage to collagen and elastin.
SPF 50 blocks 98% of UVB rays that cause aging and discoloration.
For those with severe gluten sensitivities or Dermatitis Herpetiformis, rest assured this product is gluten free.
Night
We do not recommend applying moisturizers with SPF ingredients at night.
Day
Cleanse and tone skin. Prep skin with a daytime serum like Cell ID Nutritive Defense Serum. Liberally apply a quarter-sized amount of Peptide-Rich Defense to face, neck, décolletage and hands 15 minutes prior to exposure to the sun. Reapply at least every 2 hours. Makes the perfect prep step before makeup application.
All Ingredients
Active Ingredients: Avobenzone 3.0% w/w, Octinoxate 7.5% w/w, Octisalate 5.0% w/w, Oxybenzone 5.0% w/w

AQUA, PROPANEDIOL, DICAPRYLYL CARBONATE, CARTHAMUS TINCTORIUS (SAFFLOWER) OLEOSOMES, CETYL ETHYLHEXANOATE, GLYCERIN, CETEARYL OLIVATE, SORBITAN OLIVATE, SILICA, TREHALOSE, TRIMETHOXYBENZYLIDENE PENTANEDIONE, SQUALANE, PALMITOYL TETRAPEPTIDE-7, PALMITOYL OLIGOPEPTIDE, TOCOPHERYL ACETATE (VITAMIN E), MORINGA PTERYGOSPERMA SEED EXTRACT, ALLANTOIN, CITRUS GRANDIS (GRAPEFRUIT) PEEL OIL, GLUCOSAMINE HCL, SACCHAROMYCES CEREVISIAE EXTRACT, TOCOPHEROL, POTASSIUM SORBATE, POLYSORBATE 60, DISODIUM EDTA, SODIUM HYDROXIDE, CETEARYL ALCOHOL, POLYSORBATE 20, UREA, SESAMUM INDICUM (SESAME) SEED EXTRACT, BUTYLENE GLYCOL, ETHYLHEXYLGLYCERIN, DIMETHYL ISOSORBIDE, LIMONENE, TITANIUM DIOXIDE (CI 77891), CAPRYLIC/CAPRIC TRIGLYCERIDE, CETEARYL GLUCOSIDE, HYDROXYETHYL ACRYLATE/SODIUM ACRYLOYLDIMETHYL TAURATE COPOLYMER, CARBOMER, BOERHAVIA DIFFUSA ROOT EXTRACT, ALGAE EXTRACT