MSRP
Regular price
$0.00
Sale price
$46.00
Unit price
per
Sale
Sold out
Deep Cleansing Mask PM
View full details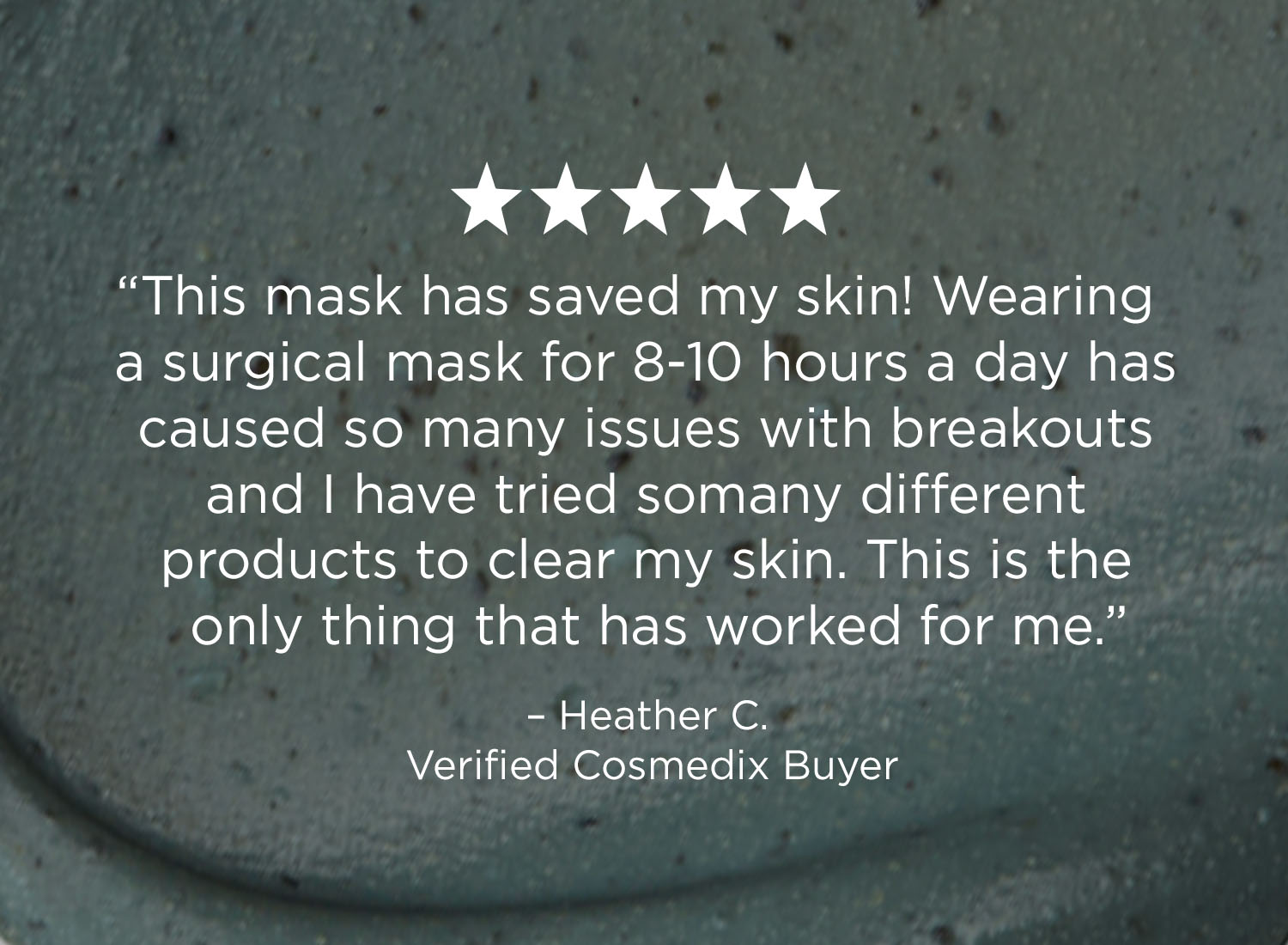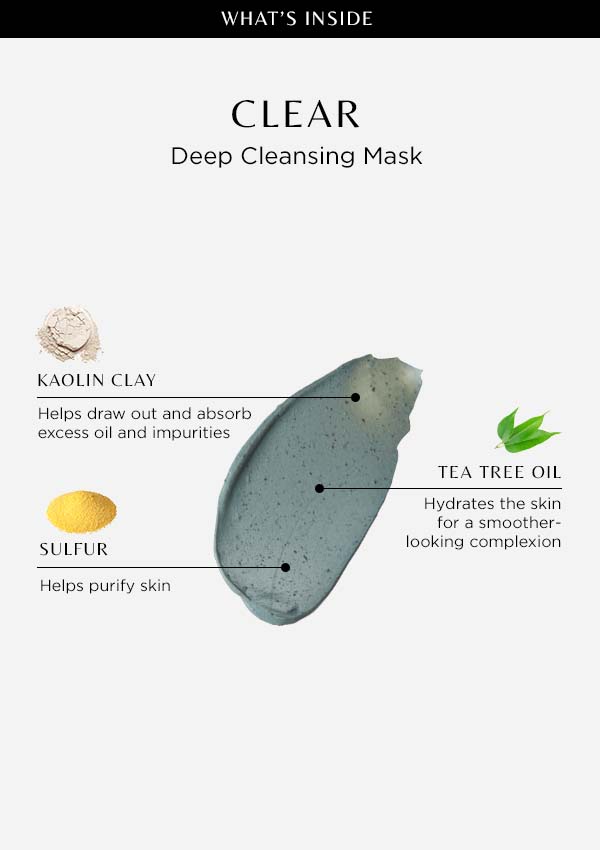 WHAT IT IS:


Clear is a clarifying Deep Cleansing Face Mask that helps improve skin tone and texture by gently drawing out impurities to help unclog pores for a clearer-looking complexion that glows.



WHAT IT DOES:


• Gently exfoliates to draw out pore-clogging impurities




• Aids in balancing the complexion for a less shiny appearance




• Helps reduce the appearance of redness





Meet our secret weapon against skin imperfections—Clear. This top-rated Deep Cleansing Mask is formulated with kaolin clay, salicylic acid and sulfur to help gently exfoliate and trap excess oil and impurities that could potentially clog pores. Niacinamide, a form of vitamin B3, helps improve skin texture, while soothing natural botanicals help reduce the appearance of redness without leaving skin tight or dry. Kiss insecurity goodbye and say hello to a clearer, more vibrant and healthier-looking complexion that lasts.



TRANSFORMATIVE INGREDIENTS
Kaolin Clay

| Helps draw out and absorb excess oil and impurities


Sulfur

| Helps purify skin


Tea Tree Oil

| Hydrates the skin for a smoother-looking complexion




Conditioning moisturizers help attract and retain vital moisture in the skin.

Helps to even skin tone by reducing the look of acne scars, dark spots and hyper-pigmentation.

Free radical-fighting antioxidants defend skin from environmental stress that can cause inflammation and damage to collagen and elastin.

Acne is caused when oil, hair and dead skin cells clog pores. Ingredients such as Salicylic Acid and AGP Complex help stimulate cell turnover to curb breakouts.

Formulated free of petroleum-based oils to gently nourish skin without clogging pores.

Improved texture and proper product absorption is due to exfoliation. When the surface layer of the skin is removed, fresh skin is revealed and can absorb active ingredients easier.

For those with severe gluten sensitivities or Dermatitis Herpetiformis, rest assured this product is gluten free.

Night

At night, apply a generous amount of Clear Deep Cleansing Mask—enough to cover your entire face—to damp, clean skin, 2-3 times a week. Leave on for 5-10 minutes. Rinse with warm water. Can also be used as a targeted treatment or over Clarity Skin-Clarifying Serum. Follow with Shineless or Mystic for oily, acne-prone or combination skin—Emulsion or Humidify for normal to dry skin.

Day

We do not recommend this product for use in the AM if you will be exposed to sun, as it may cause skin sensitivity to sun exposure.

All Ingredients

Key Ingredients
Kaolin Clay and Sulfur | Help draw out and absorb excess oil and impurities
Tea Tree Oil | Balances the skin for an even complexion

AQUA, GLYCERIN, BENTONITE, KAOLIN, NIACINAMIDE, HAMAMELIS VIRGINIANA (WITCH HAZEL) WATER, SULFUR, CAPRYLIC/CAPRIC TRIGLYCERIDE, STEARIC ACID, ALCOHOL DENAT., GLYCERYL RICINOLEATE, GLYCOL DISTEARATE, SALICYLIC ACID, TITANIUM DIOXIDE (CI 77981), MENTHYL LACTATE (L), EPILOBIUM ANGUSTIFOLIUM FLOWER/LEAF/STEM EXTRACT, MELALEUCA ALTERNIFOLIA (TEA TREE) LEAF OIL, EUCALYPTUS GLOBULUS LEAF OIL, BRASSICA OLERACEA ITALICA (BROCCOLI) EXTRACT, MELIA AZADIRACHTA (NEEM) LEAF EXTRACT, MELIA AZADIRACHTA (NEEM) FLOWER EXTRACT, SOLANUM MELONGENA (EGGPLANT) FRUIT EXTRACT, ALOE BARBADENSIS FLOWER EXTRACT, COCCINIA INDICA FRUIT EXTRACT, CHAMOMILLA RECUTITA (MATRICARIA) FLOWER EXTRACT, OCIMUM SANCTUM LEAF EXTRACT, LAWSONIA INERMIS (HENNA) EXTRACT, OCIMUM BASILICUM (BASIL) LEAF EXTRACT, CURCUMA LONGA (TURMERIC) ROOT EXTRACT, CALENDULA OFFICINALIS FLOWER EXTRACT, PASSIFLORA INCARNATA (PASSIONFLOWER) FLOWER EXTRACT, TOCOPHERYL ACETATE (D-ALPHA), GLYCINE SOJA (SOYBEAN) OIL, AMINO ESTERS-1, ALLANTOIN, PEARL POWDER, SILICA, DIMETHICONE, ALCOHOL, CETYL ALCOHOL, XANTHAN GUM, CARBOMER, GUAIAZULENE, BENZYL ALCOHOL
WHAT IT IS:


Clear is a clarifying Deep Cleansing Face Mask that helps improve skin tone and texture by gently drawing out impurities to help unclog pores for a clearer-looking complexion that glows.



WHAT IT DOES:


• Gently exfoliates to draw out pore-clogging impurities




• Aids in balancing the complexion for a less shiny appearance




• Helps reduce the appearance of redness





Meet our secret weapon against skin imperfections—Clear. This top-rated Deep Cleansing Mask is formulated with kaolin clay, salicylic acid and sulfur to help gently exfoliate and trap excess oil and impurities that could potentially clog pores. Niacinamide, a form of vitamin B3, helps improve skin texture, while soothing natural botanicals help reduce the appearance of redness without leaving skin tight or dry. Kiss insecurity goodbye and say hello to a clearer, more vibrant and healthier-looking complexion that lasts.



TRANSFORMATIVE INGREDIENTS
Kaolin Clay

| Helps draw out and absorb excess oil and impurities


Sulfur

| Helps purify skin


Tea Tree Oil

| Hydrates the skin for a smoother-looking complexion



Conditioning moisturizers help attract and retain vital moisture in the skin.
Helps to even skin tone by reducing the look of acne scars, dark spots and hyper-pigmentation.
Free radical-fighting antioxidants defend skin from environmental stress that can cause inflammation and damage to collagen and elastin.
Acne is caused when oil, hair and dead skin cells clog pores. Ingredients such as Salicylic Acid and AGP Complex help stimulate cell turnover to curb breakouts.
Formulated free of petroleum-based oils to gently nourish skin without clogging pores.
Improved texture and proper product absorption is due to exfoliation. When the surface layer of the skin is removed, fresh skin is revealed and can absorb active ingredients easier.
For those with severe gluten sensitivities or Dermatitis Herpetiformis, rest assured this product is gluten free.
Night
At night, apply a generous amount of Clear Deep Cleansing Mask—enough to cover your entire face—to damp, clean skin, 2-3 times a week. Leave on for 5-10 minutes. Rinse with warm water. Can also be used as a targeted treatment or over Clarity Skin-Clarifying Serum. Follow with Shineless or Mystic for oily, acne-prone or combination skin—Emulsion or Humidify for normal to dry skin.
Day
We do not recommend this product for use in the AM if you will be exposed to sun, as it may cause skin sensitivity to sun exposure.
All Ingredients
Key Ingredients
Kaolin Clay and Sulfur | Help draw out and absorb excess oil and impurities
Tea Tree Oil | Balances the skin for an even complexion

AQUA, GLYCERIN, BENTONITE, KAOLIN, NIACINAMIDE, HAMAMELIS VIRGINIANA (WITCH HAZEL) WATER, SULFUR, CAPRYLIC/CAPRIC TRIGLYCERIDE, STEARIC ACID, ALCOHOL DENAT., GLYCERYL RICINOLEATE, GLYCOL DISTEARATE, SALICYLIC ACID, TITANIUM DIOXIDE (CI 77981), MENTHYL LACTATE (L), EPILOBIUM ANGUSTIFOLIUM FLOWER/LEAF/STEM EXTRACT, MELALEUCA ALTERNIFOLIA (TEA TREE) LEAF OIL, EUCALYPTUS GLOBULUS LEAF OIL, BRASSICA OLERACEA ITALICA (BROCCOLI) EXTRACT, MELIA AZADIRACHTA (NEEM) LEAF EXTRACT, MELIA AZADIRACHTA (NEEM) FLOWER EXTRACT, SOLANUM MELONGENA (EGGPLANT) FRUIT EXTRACT, ALOE BARBADENSIS FLOWER EXTRACT, COCCINIA INDICA FRUIT EXTRACT, CHAMOMILLA RECUTITA (MATRICARIA) FLOWER EXTRACT, OCIMUM SANCTUM LEAF EXTRACT, LAWSONIA INERMIS (HENNA) EXTRACT, OCIMUM BASILICUM (BASIL) LEAF EXTRACT, CURCUMA LONGA (TURMERIC) ROOT EXTRACT, CALENDULA OFFICINALIS FLOWER EXTRACT, PASSIFLORA INCARNATA (PASSIONFLOWER) FLOWER EXTRACT, TOCOPHERYL ACETATE (D-ALPHA), GLYCINE SOJA (SOYBEAN) OIL, AMINO ESTERS-1, ALLANTOIN, PEARL POWDER, SILICA, DIMETHICONE, ALCOHOL, CETYL ALCOHOL, XANTHAN GUM, CARBOMER, GUAIAZULENE, BENZYL ALCOHOL