MSRP
Regular price
Sale price
$48.00
Unit price
per
Sale
Sold out
Hydrating Treatment
View full details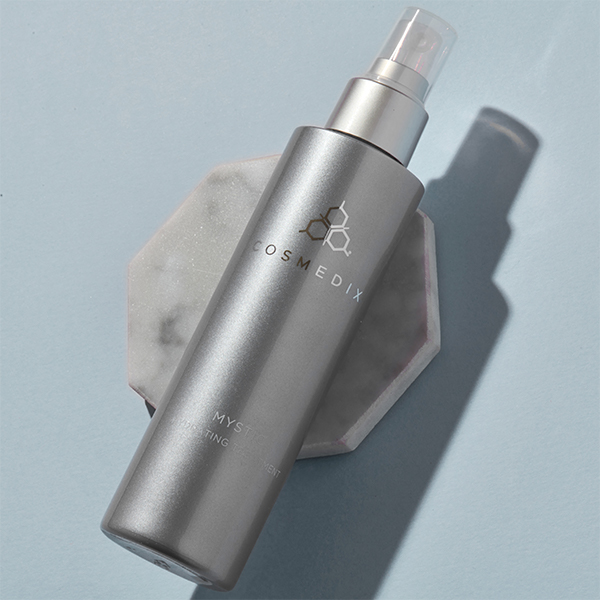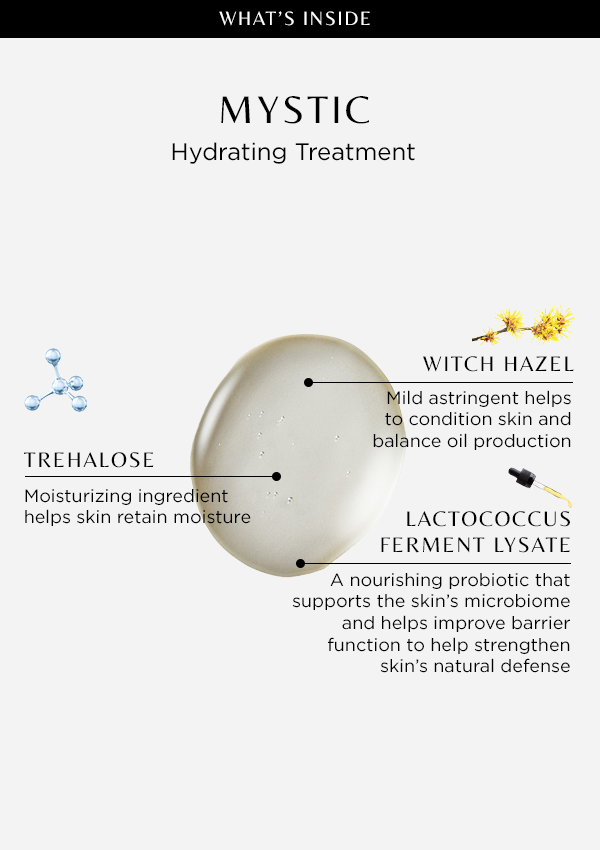 WHAT IT IS:


Mystic is a skin-pampering Hydrating Treatment that provides daily, lightweight hydration and helps protect skin from environmental stressors with each misting spray.



WHAT IT DOES:


• Boosts hydration for a shine-free, dewy looking complexion




• Soothes and conditions dry skin




• Helps protect skin from environmental stressors





Pamper your complexion with the skin-nourishing benefits of Mystic. This bestselling Hydrating Treatment is an on-the-go moisturizing spray that provides daily, lightweight hydration to oily, sensitive and blemish-prone skin types. Formulated with soothing Aloe Vera and Witch Hazel, this oil-free moisturizer helps condition the skin by preventing moisture loss, while plant-based ingredients aid in environmental protection and help naturally soothe the complexion. Perfect for everyday use and post peeling treatments.



TRANSFORMATIVE INGREDIENTS
Witch Hazel

| Mild astringent helps to protect and condition skin


Trehalose

| Moisturizing ingredient helps skin retain moisture


Lactococcus Ferment Lysate

| A nourishing probiotic that supports the skin's microbiome and helps improve barrier function to help strengthen skin's natural defense




A combination of science and botanical ingredients help firm skin and smooth lines and wrinkles.

Conditioning moisturizers help attract and retain vital moisture in the skin.

Free radical-fighting antioxidants defend skin from environmental stress that can cause inflammation and damage to collagen and elastin.

Botanical ingredients help soothe inflammation and nourish resurfaced skin to keep it healthy.

Formulated free of petroleum-based oils to gently nourish skin without clogging pores.

For those with severe gluten sensitivities or Dermatitis Herpetiformis, rest assured this product is gluten free.

Night

At night, mist Mystic Hydrating Treatment to freshly cleansed and toned skin.

Day

For daytime use, mist Mystic Hydrating Treatment to freshly cleansed and toned skin. Follow with Peptide-Rich Defense Moisturizer with Broad Spectrum SPF 50 Sunscreen (not included).

All Ingredients

HAMAMELIS VIRGINIANA (WITCH HAZEL) WATER, AQUA/WATER/EAU, ALCOHOL, LACTOCOCCUS FERMENT LYSATE, GLYCERIN, SODIUM HYALURONATE, GLUCONOLACTONE, VACCINIUM VITIS-IDAEA FRUIT EXTRACT, PANTHENOL (D), BIOSACCHARIDE GUM-4, ALOE BARBADENSIS LEAF JUICE, ALLANTOIN, SODIUM PCA, TREHALOSE, POLYSORBATE 20, PENTYLENE GLYCOL, BENZYL ALCOHOL, CITRIC ACID, UREA, FRUCTOSE, SODIUM HYDROXIDE, FRAGRANCE (PARFUM) [NATURAL]*, SODIUM CHLORIDE, T-BUTYL ALCOHOL, DENATONIUM BENZOATE, LACTIC ACID, SODIUM LACTATE, MALTOSE, 1,2-HEXANEDIOL, SODIUM BENZOATE, XANTHAN GUM, GLUCONOLACTONE, GLUCOSE, CALCIUM GLUCONATE.




*Parfum/Fragrance used in this product is of natural origin and is made exclusively from natural aromatic compounds. Each pure compound used in the natural fragrance is physically obtained from plants without altering its chemical structure
WHAT IT IS:


Mystic is a skin-pampering Hydrating Treatment that provides daily, lightweight hydration and helps protect skin from environmental stressors with each misting spray.



WHAT IT DOES:


• Boosts hydration for a shine-free, dewy looking complexion




• Soothes and conditions dry skin




• Helps protect skin from environmental stressors





Pamper your complexion with the skin-nourishing benefits of Mystic. This bestselling Hydrating Treatment is an on-the-go moisturizing spray that provides daily, lightweight hydration to oily, sensitive and blemish-prone skin types. Formulated with soothing Aloe Vera and Witch Hazel, this oil-free moisturizer helps condition the skin by preventing moisture loss, while plant-based ingredients aid in environmental protection and help naturally soothe the complexion. Perfect for everyday use and post peeling treatments.



TRANSFORMATIVE INGREDIENTS
Witch Hazel

| Mild astringent helps to protect and condition skin


Trehalose

| Moisturizing ingredient helps skin retain moisture


Lactococcus Ferment Lysate

| A nourishing probiotic that supports the skin's microbiome and helps improve barrier function to help strengthen skin's natural defense



A combination of science and botanical ingredients help firm skin and smooth lines and wrinkles.
Conditioning moisturizers help attract and retain vital moisture in the skin.
Free radical-fighting antioxidants defend skin from environmental stress that can cause inflammation and damage to collagen and elastin.
Botanical ingredients help soothe inflammation and nourish resurfaced skin to keep it healthy.
Formulated free of petroleum-based oils to gently nourish skin without clogging pores.
For those with severe gluten sensitivities or Dermatitis Herpetiformis, rest assured this product is gluten free.
Night
At night, mist Mystic Hydrating Treatment to freshly cleansed and toned skin.
Day
For daytime use, mist Mystic Hydrating Treatment to freshly cleansed and toned skin. Follow with Peptide-Rich Defense Moisturizer with Broad Spectrum SPF 50 Sunscreen (not included).
All Ingredients
HAMAMELIS VIRGINIANA (WITCH HAZEL) WATER, AQUA/WATER/EAU, ALCOHOL, LACTOCOCCUS FERMENT LYSATE, GLYCERIN, SODIUM HYALURONATE, GLUCONOLACTONE, VACCINIUM VITIS-IDAEA FRUIT EXTRACT, PANTHENOL (D), BIOSACCHARIDE GUM-4, ALOE BARBADENSIS LEAF JUICE, ALLANTOIN, SODIUM PCA, TREHALOSE, POLYSORBATE 20, PENTYLENE GLYCOL, BENZYL ALCOHOL, CITRIC ACID, UREA, FRUCTOSE, SODIUM HYDROXIDE, FRAGRANCE (PARFUM) [NATURAL]*, SODIUM CHLORIDE, T-BUTYL ALCOHOL, DENATONIUM BENZOATE, LACTIC ACID, SODIUM LACTATE, MALTOSE, 1,2-HEXANEDIOL, SODIUM BENZOATE, XANTHAN GUM, GLUCONOLACTONE, GLUCOSE, CALCIUM GLUCONATE.
*Parfum/Fragrance used in this product is of natural origin and is made exclusively from natural aromatic compounds. Each pure compound used in the natural fragrance is physically obtained from plants without altering its chemical structure