MSRP
Regular price
Sale price
$85.00
Unit price
per
Sale
Sold out
Intense Hydrator AM/PM
View full details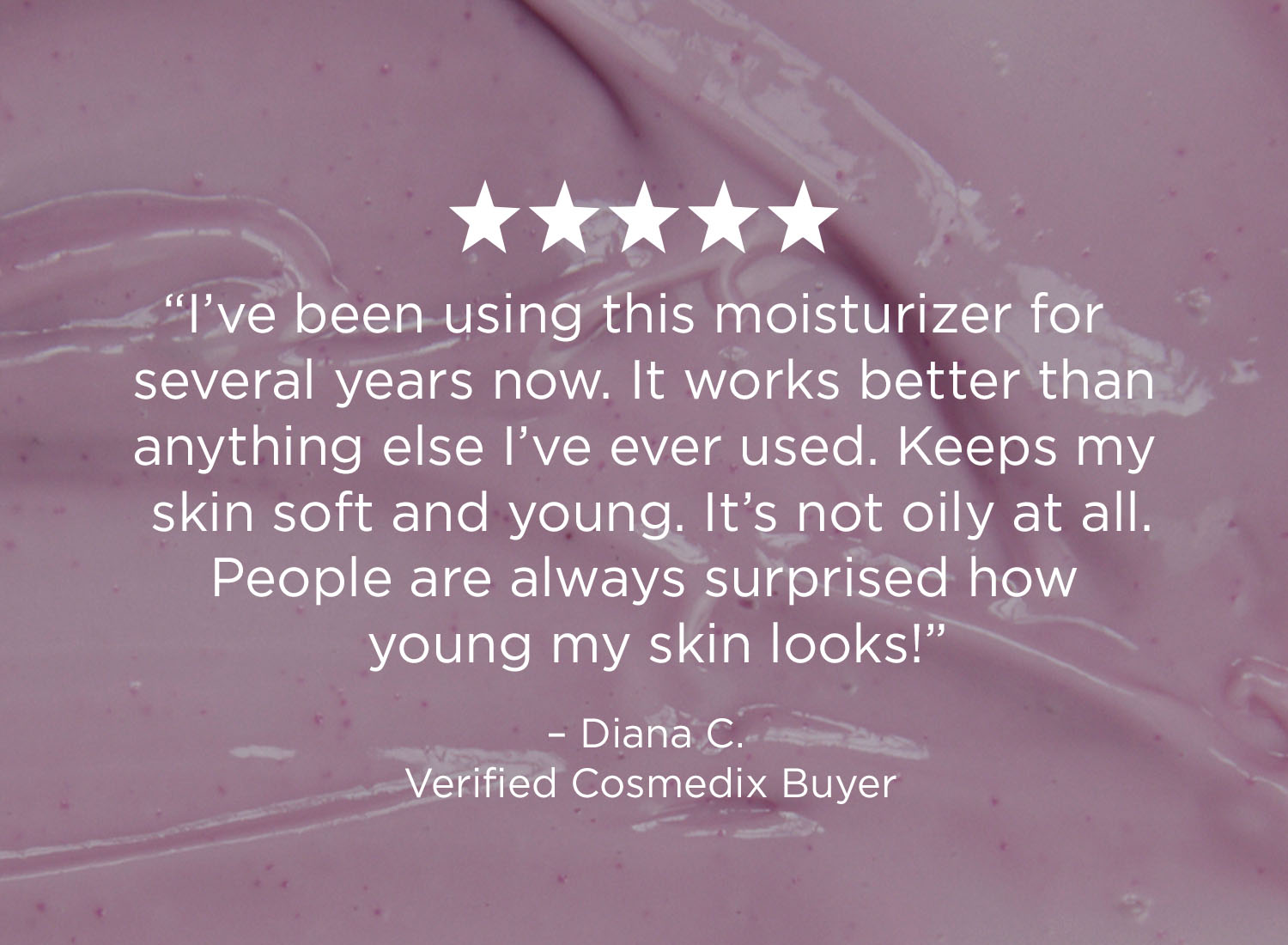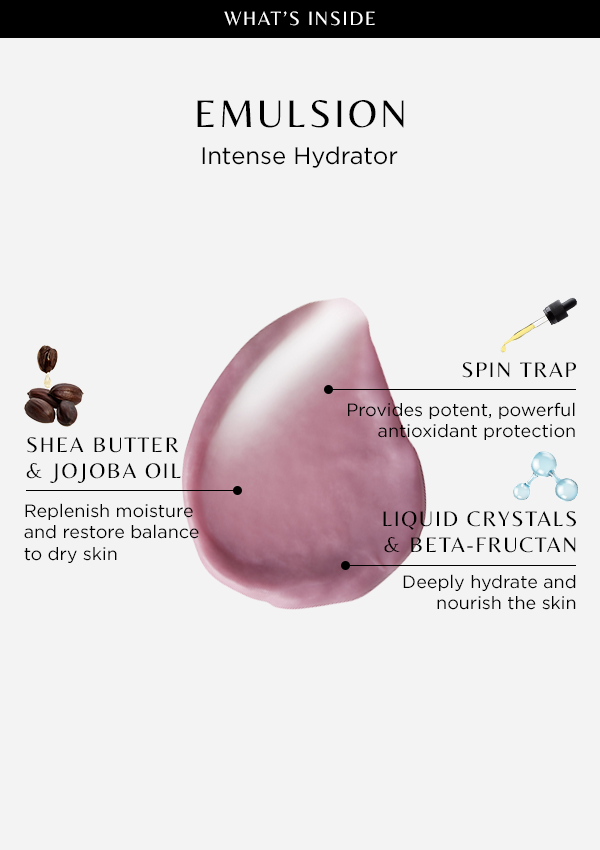 WHAT IT IS:


Emulsion Intense Hydrator is a silky smooth, luxurious face moisturizing cream that helps hydrate and replenish dry skin for total moisture restoration and a healthy-looking glow.



WHAT IT DOES:


• Hydrates dehydrated, dry skin




• Helps reduce the appearance of redness




• Seals in moisture and restores balance




• Soothes and relieves dry skin





Bring dry skin back to life with Emulsion Intense Hydrator. This ultra-nourishing moisturizer satisfies perpetually dehydrated skin with the intense burst of moisture it needs. When skin is dry, it's a sign that it is not retaining moisture effectively—Emulsion utilizes a rich blend of ingredients that deeply hydrate the complexion to help it retain moisture and renew the look and feel of the skin. Nourishing shea butter and jojoba oil help restore balance to dry skin, while moisture-locking liquid crystal technology nourishes the complexion and helps protect skin from damaging environmental stressors. Say hello to more radiant, plump-looking skin.



TRANSFORMATIVE INGREDIENTS
Shea Butter and Jojoba Oil

| Replenish moisture and restore balance to dry skin


Spin Trap

| Provides potent, powerful antioxidant protection


Liquid Crystals and Beta-Fructan

| Deeply hydrate and nourish the skin




A combination of science and botanical ingredients help firm skin and smooth lines and wrinkles.

Conditioning moisturizers help attract and retain vital moisture in the skin.

Free radical-fighting antioxidants defend skin from environmental stress that can cause inflammation and damage to collagen and elastin.

Botanical ingredients help soothe inflammation and nourish resurfaced skin to keep it healthy.

For those with severe gluten sensitivities or Dermatitis Herpetiformis, rest assured this product is gluten free.

Night

At night, dispense a small amount of Affirm Antioxidant Firming Serum to cleansed and toned skin. Smooth a dime-sized amount of Emulsion over face, neck and décolletage.

Day

For daytime use, smooth a small amount of Emulsion over freshly cleansed and toned skin. Follow with Peptide-Rich Defense Moisturizer with Broad Spectrum SPF 50 Sunscreen or Hydrate+ Moisturizing Sunscreen.

All Ingredients

Key Ingredients
Shea Butter and Jojoba Oil | Replenish moisture and restore balance to dry skin
Spin Trap | Provides potent, powerful antioxidant protection
Liquid Crystals and Beta-Fructan | Thoroughly hydrate and nourish the skin

AQUA, GLYCERIN, BUTYROSPERMUM PARKII (SHEA) BUTTER, CAPRYLIC/CAPRIC TRIGLYCERIDE, CHOLESTERYL OLEYL CARBONATE, COCO-CAPRYLATE/CAPRATE, CHOLESTERYL STEARATE, CHOLESTERYL NONANOATE, CETEARYL ALCOHOL, DIAMINOPROPIONOYL TRIPEPTIDE-33, CAPRYLYL GLYCOL, LONICERA CAPRIFOLIUM (HONEYSUCKLE) FLOWER EXTRACT, GLYCERYL STEARATE, CETEARYL GLUCOSIDE, DICAPRYLYL ETHER, POLYGLYCERYL-4 CAPRATE, XANTHAN GUM, GLUCONOLACTONE, LEUCONOSTOC/RADISH ROOT FERMENT FILTRATE, MELIA AZADIRACHTA (NEEM) LEAF EXTRACT, CITRUS RETICULATA PEEL OIL, MELIA AZADIRACHTA (NEEM) FLOWER EXTRACT, ZEA MAYS (CORN) SILK EXTRACT, AMINO ESTERS-1, ECLIPTA PROSTRATA EXTRACT, COCOS NUCIFERA (COCONUT) FRUIT JUICE, CYMBOPOGON SCHOENANTHUS (LEMONGRASS) OIL, FRUCTOOLIGOSACCHARIDES (D-BETA), ORYZA SATIVA (RICE) BRAN OIL, THIOCTIC (R-LIPOIC) ACID, POPULUS TREMULOIDES BARK EXTRACT, SODIUM HYDROXIDE, PHENYL T-BUTYLNITRONE (SPIN TRAP), LONICERA JAPONICA (HONEYSUCKLE) FLOWER EXTRACT, COCCINIA INDICA FRUIT EXTRACT, ETHYLHEXYLGLYCERIN, CITRUS GRANDIS (GRAPEFRUIT) PEEL OIL, CITRUS LIMON (LEMON) PEEL OIL, COPPER GLUCONATE, SOLANUM MELONGENA (EGGPLANT) FRUIT EXTRACT, ALOE BARBADENSIS FLOWER EXTRACT, PYRUVIC ACID, CALCIUM GLUCONATE, CURCUMA LONGA (TUMERIC) ROOT EXTRACT, OCIMUM SANCTUM LEAF EXTRACT, OCIMUM BASILICUM (BASIL) LEAF EXTRACT, LAWSONIA INERMIS LEAF EXTRACT, PEARL POWDER, MORINGA PTERYGOSPERMA OIL, SIMMONDSIA CHINENSIS (JOJOBA) SEED OIL, LAWSONIA INERMIS (HENNA) EXTRACT, CORALLINA OFFICINALIS EXTRACT, BHT, PHENOXYETHANOL, SODIUM BENZOATE, POTASSIUM SORBATE, LIMONENE, CITRAL, GERANIOL, EUGENOL, LINALOOL, FARNESOL
WHAT IT IS:


Emulsion Intense Hydrator is a silky smooth, luxurious face moisturizing cream that helps hydrate and replenish dry skin for total moisture restoration and a healthy-looking glow.



WHAT IT DOES:


• Hydrates dehydrated, dry skin




• Helps reduce the appearance of redness




• Seals in moisture and restores balance




• Soothes and relieves dry skin





Bring dry skin back to life with Emulsion Intense Hydrator. This ultra-nourishing moisturizer satisfies perpetually dehydrated skin with the intense burst of moisture it needs. When skin is dry, it's a sign that it is not retaining moisture effectively—Emulsion utilizes a rich blend of ingredients that deeply hydrate the complexion to help it retain moisture and renew the look and feel of the skin. Nourishing shea butter and jojoba oil help restore balance to dry skin, while moisture-locking liquid crystal technology nourishes the complexion and helps protect skin from damaging environmental stressors. Say hello to more radiant, plump-looking skin.



TRANSFORMATIVE INGREDIENTS
Shea Butter and Jojoba Oil

| Replenish moisture and restore balance to dry skin


Spin Trap

| Provides potent, powerful antioxidant protection


Liquid Crystals and Beta-Fructan

| Deeply hydrate and nourish the skin



A combination of science and botanical ingredients help firm skin and smooth lines and wrinkles.
Conditioning moisturizers help attract and retain vital moisture in the skin.
Free radical-fighting antioxidants defend skin from environmental stress that can cause inflammation and damage to collagen and elastin.
Botanical ingredients help soothe inflammation and nourish resurfaced skin to keep it healthy.
For those with severe gluten sensitivities or Dermatitis Herpetiformis, rest assured this product is gluten free.
Night
At night, dispense a small amount of Affirm Antioxidant Firming Serum to cleansed and toned skin. Smooth a dime-sized amount of Emulsion over face, neck and décolletage.
Day
For daytime use, smooth a small amount of Emulsion over freshly cleansed and toned skin. Follow with Peptide-Rich Defense Moisturizer with Broad Spectrum SPF 50 Sunscreen or Hydrate+ Moisturizing Sunscreen.
All Ingredients
Key Ingredients
Shea Butter and Jojoba Oil | Replenish moisture and restore balance to dry skin
Spin Trap | Provides potent, powerful antioxidant protection
Liquid Crystals and Beta-Fructan | Thoroughly hydrate and nourish the skin

AQUA, GLYCERIN, BUTYROSPERMUM PARKII (SHEA) BUTTER, CAPRYLIC/CAPRIC TRIGLYCERIDE, CHOLESTERYL OLEYL CARBONATE, COCO-CAPRYLATE/CAPRATE, CHOLESTERYL STEARATE, CHOLESTERYL NONANOATE, CETEARYL ALCOHOL, DIAMINOPROPIONOYL TRIPEPTIDE-33, CAPRYLYL GLYCOL, LONICERA CAPRIFOLIUM (HONEYSUCKLE) FLOWER EXTRACT, GLYCERYL STEARATE, CETEARYL GLUCOSIDE, DICAPRYLYL ETHER, POLYGLYCERYL-4 CAPRATE, XANTHAN GUM, GLUCONOLACTONE, LEUCONOSTOC/RADISH ROOT FERMENT FILTRATE, MELIA AZADIRACHTA (NEEM) LEAF EXTRACT, CITRUS RETICULATA PEEL OIL, MELIA AZADIRACHTA (NEEM) FLOWER EXTRACT, ZEA MAYS (CORN) SILK EXTRACT, AMINO ESTERS-1, ECLIPTA PROSTRATA EXTRACT, COCOS NUCIFERA (COCONUT) FRUIT JUICE, CYMBOPOGON SCHOENANTHUS (LEMONGRASS) OIL, FRUCTOOLIGOSACCHARIDES (D-BETA), ORYZA SATIVA (RICE) BRAN OIL, THIOCTIC (R-LIPOIC) ACID, POPULUS TREMULOIDES BARK EXTRACT, SODIUM HYDROXIDE, PHENYL T-BUTYLNITRONE (SPIN TRAP), LONICERA JAPONICA (HONEYSUCKLE) FLOWER EXTRACT, COCCINIA INDICA FRUIT EXTRACT, ETHYLHEXYLGLYCERIN, CITRUS GRANDIS (GRAPEFRUIT) PEEL OIL, CITRUS LIMON (LEMON) PEEL OIL, COPPER GLUCONATE, SOLANUM MELONGENA (EGGPLANT) FRUIT EXTRACT, ALOE BARBADENSIS FLOWER EXTRACT, PYRUVIC ACID, CALCIUM GLUCONATE, CURCUMA LONGA (TUMERIC) ROOT EXTRACT, OCIMUM SANCTUM LEAF EXTRACT, OCIMUM BASILICUM (BASIL) LEAF EXTRACT, LAWSONIA INERMIS LEAF EXTRACT, PEARL POWDER, MORINGA PTERYGOSPERMA OIL, SIMMONDSIA CHINENSIS (JOJOBA) SEED OIL, LAWSONIA INERMIS (HENNA) EXTRACT, CORALLINA OFFICINALIS EXTRACT, BHT, PHENOXYETHANOL, SODIUM BENZOATE, POTASSIUM SORBATE, LIMONENE, CITRAL, GERANIOL, EUGENOL, LINALOOL, FARNESOL